ADULT LIFE GROUPS
1 Corinthians 10:31 – "Whether you eat or drink or whatever you do, do all to the glory of God."
The adult ministry of Central seeks to make disciples of Jesus Christ who are making disciples. We do this in a Biblical relational environment, where teachers and facilitators guide our groups into a conversational study of God's word with a goal of life transformation by the Word so that we are growing in Christ and living on mission for Him. We call these groups "Life Groups" because we are doing life in Christ together as growing disciples. We currently have life groups on Sunday morning and Wednesday evenings, as well as life groups that meet during the week in the surrounding communities. Our vision for adult ministry includes loving one another, growing in the knowledge of God's word, and serving both the church body and the community. Our long-range goal is to become a fully mobilized missional community of believers that not only reaches our community for Christ, but our world as well. Our LIfe Groups meet on Sunday at 9:00am and various times throughout the week. We have a variety of life groups who would love to include you! See below for various age groups and specific genders.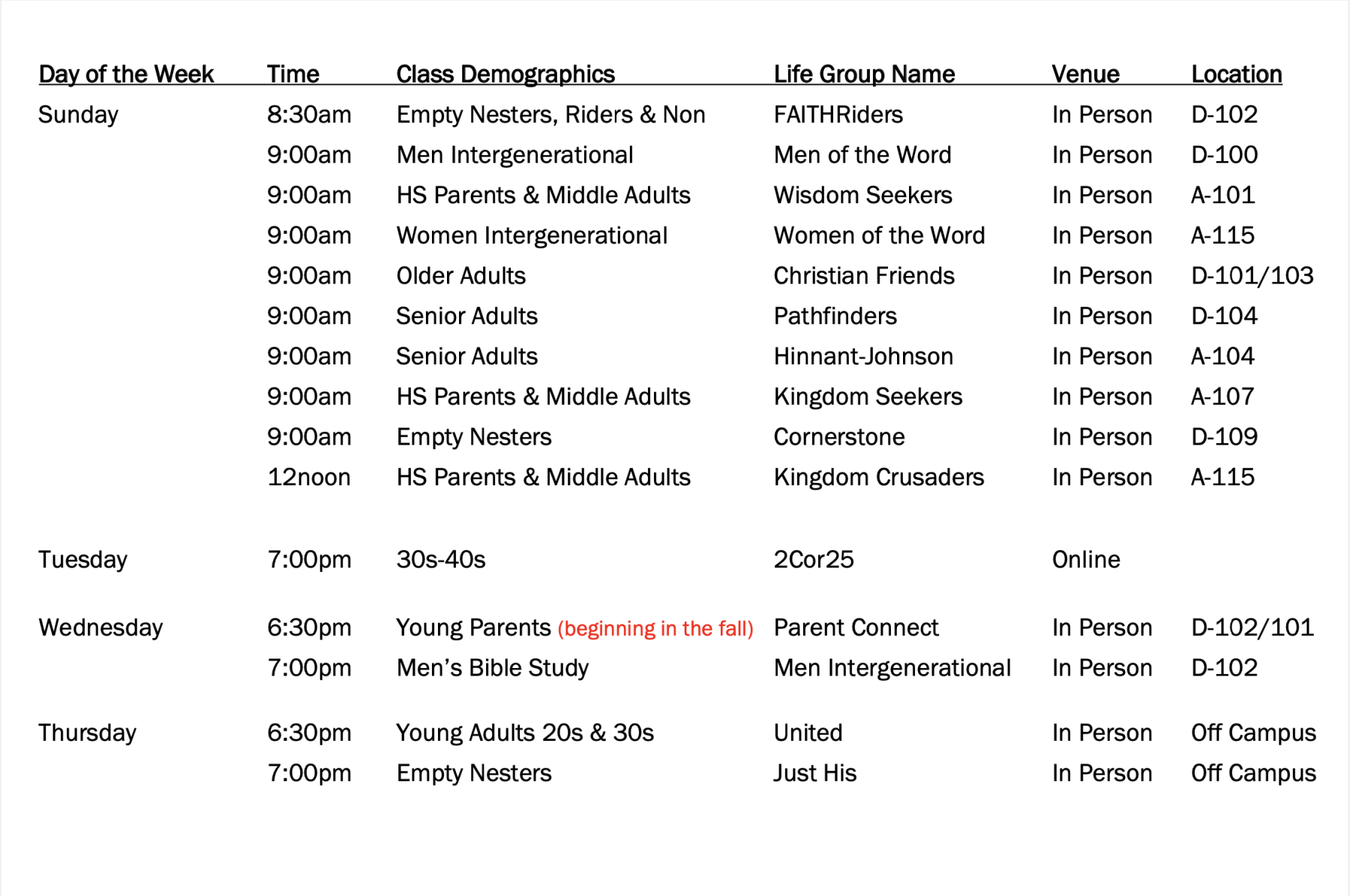 Contact David Loftis For More Information:
NEED BASED GROUPS
All of us find ourselves in a place of need at times. We need comfort in pain or grief. We need coaching in a particularly difficult season of life. We need hope and guidance when finances are disorganized. Or we may just need somebody to do what we're doing - together. Need Based Groups are where the people of God gather with friends from the community for conversations around life skill based coaching sessions. We offer several need based groups, which are usually for a particular time frame. Here are a sampling of current need-based groups at Central:
GRIEF SHARE - Tuesdays - 7:00pm
PARENT CONNECT - Wednesdays - 6:00-7:30pm (includes optional supper for attendees; children's discipleship provided).